Linda Forman, Certified Public Accountant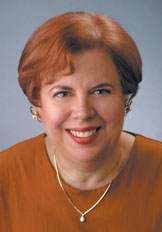 Beyond running her Evanston firm, Linda has a variety of interests and activities, especially those related to small business and advocacy. Linda is a past U. S. Small Business Administration Accounting Advocate Award Winner and a past Vice President and Board member of the Illinois CPA Society. The Illinois CPA Society has given Linda its "media expert" award for multiple years and has featured her in print, radio and TV to discuss tax issues affecting businesses and individuals. She is an executive board member of the National Association of Women Business Owners (NAWBO) – Chicago chapter.  The NAWBO Advisory Board, chaired by Linda and informally called the "swat team", provides confidential strategic perspectives for members' business and marketing issues. Linda also received NAWBO's inaugural Hall of Fame Award.
Linda has spent the last 20 years lobbying for the rights of small business and health care issues, both locally and in Springfield and Washington. She has also taught classes on tax and employee benefits issues to CPAs and health care issues to medical professionals.  She is currently on the board of two non-partisan PACs – the Illinois CPA Society PAC and the NAWBO Chicago PAC.
As an expert witness and consultant to attorneys, Linda brings over 30 years of public accounting audit and litigation support experience to assist people in the divorce process.  Linda was a long serving board member of The Lilac Tree, an Evanston non-profit providing resources to women in the process of divorce.
Professional and Charitable Organizations:
 Illinois CPA Society –  Small Business Committee, PAC, past Vice President and Board of Directors, Legislative Contact , Media Contact
American Institute of Certified Public Accountants – Legislative Contact
The Lilac Tree, Women in Transition (Divorce assistance) – Advisory Board
National Association of Women Business Owners –Executive Board , Advisory Board Chair, PAC Executive Board
Small Business Health Care Consortium Steering Committee